The problem with facial hair is the maintenance it requires. It becomes another obligation to grapple with, another source of anxiety. I thought having a beard would simplify things, and it has to some extent, but I still have to trim the bitch, otherwise my mustache starts advancing on my upper lip, and it feels like I'm being tickled with bear grass. And the urge - THE URGE! - to shave it all off gets overwhelming after a while. I met a girl with dreadlocks who said she thinks about cutting 'em off all the time. I told her she should go with her gut and 86 those dirty skull tentacles.





Whenever I plot my shave, I look 3 weeks into the future for any important event in which having a beard is necessary. A Jewish holiday, a job interview, or a hot date are taken into consideration, as they all require minimal facial hair experimentation. I have neither a job interview nor a date in my near future, and Passover was last week.

So I shaved my beard off yesterday, but left the mustache, as a fail-safe - because my mustache grows at a slower rate than the rest of my face hair - and some sideburns for good luck. I look like this now...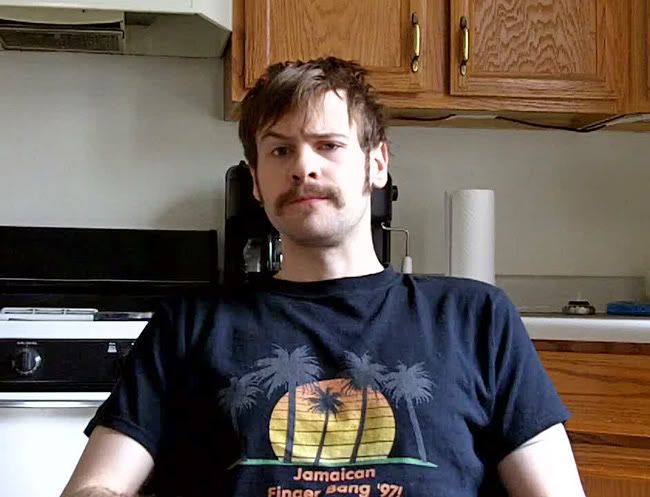 But back to my original point about constant maintenance... There is never going to be a time when everything in my life is organized, cleaned, and taken care of. I have to realize this basic fact more often, and learn to let go. Perfection is bullshit. I don't know how it became a goal of mine to have everything the way it's supposed to be. It's impossible. Getting things in order is mostly busy work masked as progress. I'm never gonna figure it all out, and sometimes I'm totally cool with that, but other times it grinds my potatoes. I'm content when I'm hanging out with people I like. Time flies and I don't care. It's wonderful. But, when I'm by myself, I get frustrated with all the chaos I perceive... I need to stop hanging out by myself all the time, and start hanging out with this lady...