True Story/ Sports Story alert!

Chillin' with some women out in Logan Square (yeah, I'm LL Cool J), when I get a text from my friend and fellow Cubs fiend, Mr. Lee Kitzis. It reads, "Tell me you saw that!". Obviously I didn't see whatever he was talking about. I gave him a ring on my way home and he was speechless, and wouldn't tell me what happened until after Mad Men at 11. Bastard. Get a DVR, you cheap Jew.

I figured something must have gone down, so I turn on the radio to hear some sport-schlock host utter the words, "Carlos Zambrano throws a no-hitter." I was flabbergasted, excited, and overcome with joy. Not profound joy, mind you, like when your child beats up another child for the first time, but genuine happiness nonetheless.


Big Z and Sweet Lou. Awesome.


(via Snarling Mess)



"I told you, Felipe! Ghosts can't play baseball!"





Eat your heart out David Blaine and Criss Angel. My man can levitate. My man also cries when he watches The Bodyguard starring Whitney Houston. Buk Buk!




Wow, Future Zambrano looks warlock-ish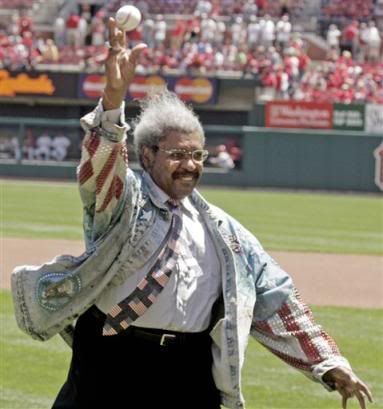 And young Zambrano has eyebrow issues. It's too bad he puffed out like a popcorn kernel with age, although then he wouldn't be Big Z, would he? All I'm saying is that mayonnaise in a sports bottle might have worked for him, but I'd advise young pitchers out there against it.




"Who goes there?"




Rad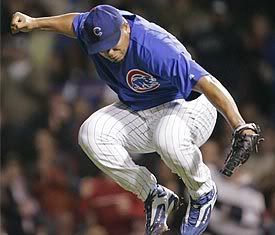 A dice game in the dug-out gets heated when Big Z catches Michael Barrett using a weighted die.






I wanted to catch the highlights and hopefully see a replay of the game sometime in the wee hours. I saw lots of Sportscenter highlights, but no such luck on the replay front. I bet I'll have to go on eBay to buy a second generation dub of the game from some schmuck who blasts Limp Bizkit in his dad's Toyota Corrolla every Thursday.

Wow, I guess the no-hitter didn't affect the rage section of my gyros (brain).

I've been a Cubs fan since I was born, and this ranks in the top 5 Cub moments of my life. My mom was always a huge Cubs fan and went to 30+ games a year in the late 60's, so I was handed down certain traits, like taking great pride in coming close, but ultimately failing. I used to come home from day camp in the summer and watch Andre Dawson, Ryne Sandberg, and Mark Grace on WGN. Afterwards, I'd take a huge shit for a kid my age. Oh, the memories. I also worked security at Wrigley Field from April to mid-May of this year, but that's another story, and not a happy one.

Lee and I share a common bond by being both Jews and Cubs fans. Two strikes, right? But that no-hitter makes being a Cubs fan worth it. And when the Cubs lose in the playoffs again next month, I'll look back on this day and smile. Through gritted teeth, I'll smile.