Here's The Thing, reenacted with GI Joes. I totally have a boner for John Carpenter's The Thing. It is a gory, claustrophobic masterpiece set in Antarctica. And they find dead Norwegians right at the beginning. That's always a plus.
This isn't funny per se, but it's stunning, and mind-bogglingly awe-inspiring fantastically radically boss. The dedication necessary to pull this off is something that I envy. I mean, seriously. One of these days, I'll get my shit together, breakup with my rabbi, and pursue a project that rivals what you're about to see.
With the GI Joe reference in yesterday's post, that makes it two days in a row for GI Joe . I'm officially 8 years old, which means that grunting loudly while taking a dump at grandma's house is the height of hilarity. Maybe it still is, but I don't take dumps anymore, so I wouldn't know.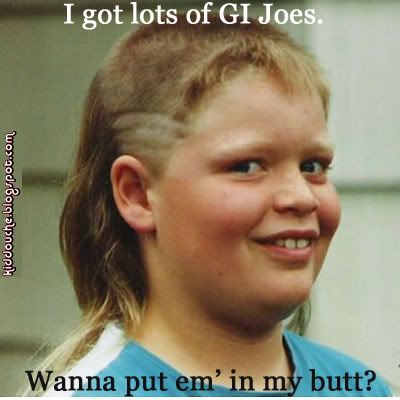 Segue to...
There was a segment on an episode of This American Life that ran on Showtime a couple months ago that really fascinated me. The episode was called "Going Down In History" and it featured a photographer, Mark Hogancamp, who creates weird WWII scenes with GI Joes that are startling and gory. Oh, and did I mention that he started doing this after he was nearly beaten to death outside a bar? Well, it's true. And he's doing these little scenes as an act of revenge. Dude was seriously traumatized. You can read more about him here and here.

Here's a couple of his photos





While searching for Mark Hogancamp, a site was mentioned called The Ultimate Soldier. There are tons of cool 1/6 scale model photo recreations of war on the site. Check it out.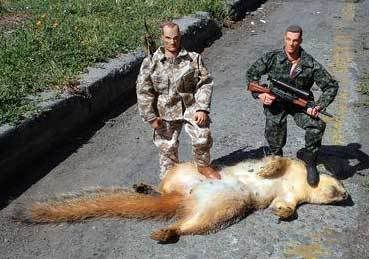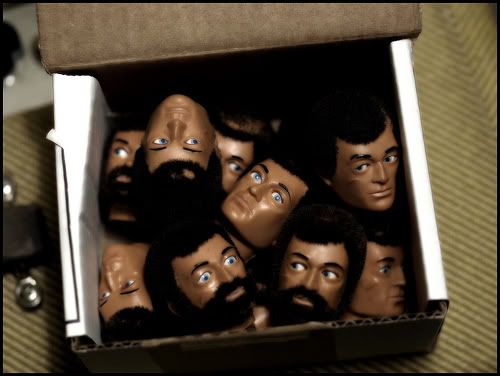 And don't worry, my GI Joe load has been blown, so nothing more about plastic soldiers unless I get requests.